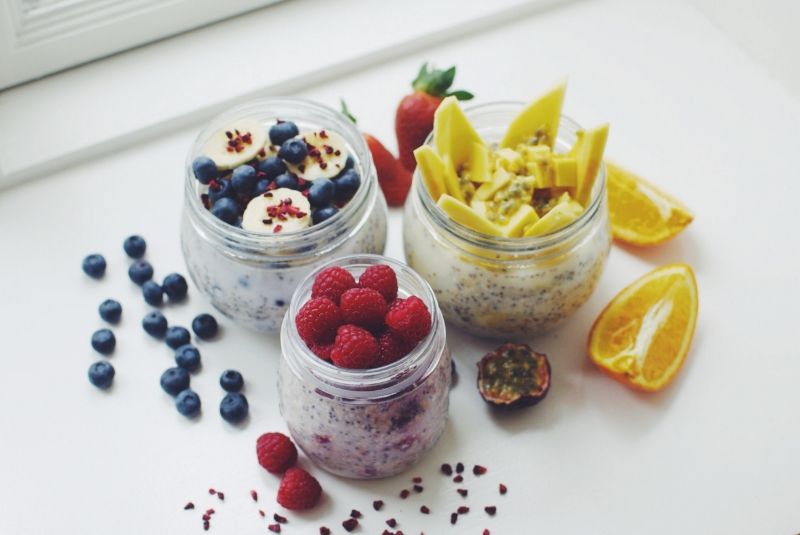 Most of you probably already know of chia overnight oats, but if you're unfamiliar with the concept let me give you a quick introduction. Chia overnight oats are just oats, chia seeds and milk that you combine in a jar (or whatever container you'd like) and let soak overnight in the fridge to allow it to absorb the milk - there is absolutely no cooking needed! In the morning you just stir the base, add your toppings of choice and it is ready to eat, nice and easy right?
This is the perfect breakfast for me because I'm always running late (haha I love the snooze button way too much, I'm definitely not a morning person!), but I'm also one of those people who LOVES breakfast and absolutely cannot function without it.
This is why overnight oats are perfect – I can prepare them the night before and actually have the time to eat some proper breakfast in the morning - and since its in a jar I can eat it on the go if I'm
really
late ;)
As you can tell I'm a big fan of overnight oats and this is not just because of how convenient and delicious it is, it is also very nutritious and filling. Oats are high in fibre and protein, milk is high in calcium, protein and potassium and don't even get me started on the chia seeds - a true superfood! Chia seeds are very high in omega 3, fibre, protein, calcium, antioxidants, potassium, vitamin B and furthermore they can absorb up to 12 times their own weight in liquid, which is great for maintaining hydration and it also makes you feel full longer (great for weight loss).
Another reason that I love making overnight oats is that the possibilities are pretty much endless when it comes to toppings, you can basically add whatever you have available to the base. I will share a couple of my favorite combinations, but first lets start off with the recipe for the base:
Ingredients:
Sweetener of choice (stevia, honey, agave etc.) – optional
Pure vanilla powder – optional
Directions:
Combine all the ingredients, mix well and let it soak in the fridge overnight. Remember that the chia seeds soak up a lot of liquid, so don't worry if it's very thin.

I always add some form of sweetener, but it isn't necessary and depends on your taste and how you like your oats.

There is no cooking needed, in the morning you just stir the base and if it is too thick you add some more milk - I love to mix in some yoghurt to make it more creamy - and if it's too thin then add a little more chia seeds.

When the base is just right add your toppings of choice and it is ready to eat. You can mix in the toppings with the base the night before to save time, there are however a couple of things that in my opinion do not do well being soaked overnight – like bananas for example, I always wait to add them until the morning.
Blueberry/vanilla/banana overnight oats
Simply add half a teaspoon pure vanilla powder (I add this to the base at night), 1/3 cup blueberries and 1/2 a banana (chopped) to the base and mix it well, enjoy!
Tropical mango/coconut/passion fruit overnight oats
Add 1/2 a chopped mango (can be added the night before to save time in the morning) 1 passion fruit and raw shredded coconut to the base and mix well.
Simple raspberry overnight oats
Add 1/2 cup of raspberries to the base (can be added the night before), mix well and enjoy :)